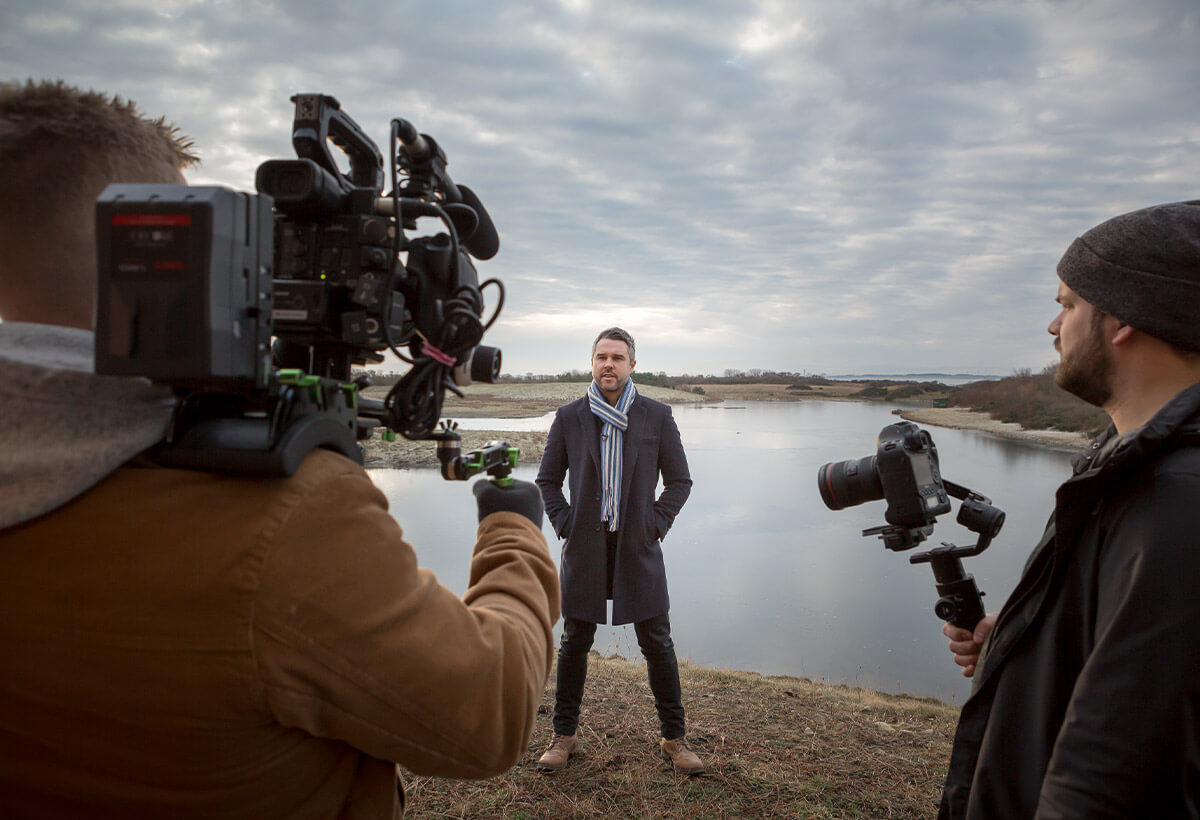 Corporate Video
Corporate Video Services across Newcastle, Sunderland, Durham and Teesside. We'll work with you to bring your brand to life
We provide creative corporate video services with a quick turnaround for businesses of all sizes. Whether you know exactly what you want to capture, or you'd like to work with us from concept to completion, our experienced corporate videographers will produce a video that you're proud to use on your website and in your marketing materials.
We use the very best camera equipment, and your product or service will look its best in 4K resolution, shot with a variety of professional camera lenses, from ground-level or even from the sky with our aerial drones, all using state-of-the-art filmmaking technology, creatively and effectively.
We don't just want to deliver a 'standard service', we like to go beyond. It's our aim to exceed your expectations and provide a positive and enjoyable customer experience, which to us, is just as important as a final product you love.
We have many years of experience working within the commercial filmmaking industry and we love to see our creative work benefit brands and companies in a multitude of different ways. Throughout our entire process, collaboration is our best asset. We have found that working as closely as possible with our clients, carefully understanding your vision and objectives is extremely important. We will take you on the production journey from start to finish, not only delivering the end-product you require, but also providing an in-depth insight into the world of creative production work.
The Brief.
For us to create the best possible video for you, it's important we have a detailed insight of your brief, messaging and your objectives. This way we can work together to ensure the video looks absolutely amazing and is fit for purpose.
The Plan.
Whether we're helping write a voice-over script, planning interview questions, or sketching a visual storyboard, it's essential we work closely together to devise and prepare an organised plan of action. Video Production always looks it's best when it's been carefully planned. As Benjamin Franklin once said "By failing to prepare, you are preparing to fail!"
The Shoot.
It's now time to put the plan into action. On location we use a variety of high-spec cinema cameras, combined with a series of quality lenses, bespoke moving camera equipment and production lighting to capture the subject in the most creative and cinematic way. We can capture the footage in 4K, slow motion and from a variety of ground and aerial perspectives to suit your needs, organising the shoot day to ensure it is the most cost effective for you.
The Cut.
We've now reached the final stage, which essentially, is the most creative step of the process. Ultimately, this is where story is told, the narrative is created from the edit, built by the cutting and splicing of the footage captured, which is only the start. There is then the equally important processes of sound mastering, graphics and animation and finally, the colour grade. Once completed, all that's left to do is to export the project in a format that suits your needs, and then share it to your audience.
So, if you're looking for a creative promotional, training, event, or aerial video get in touch with us today.
Want to work with us?
Drop us an email / give us a call. Or build a project now to receive a quote today!